KATHREIN Broadcast GmbH is now also active in broadcast transmitter technology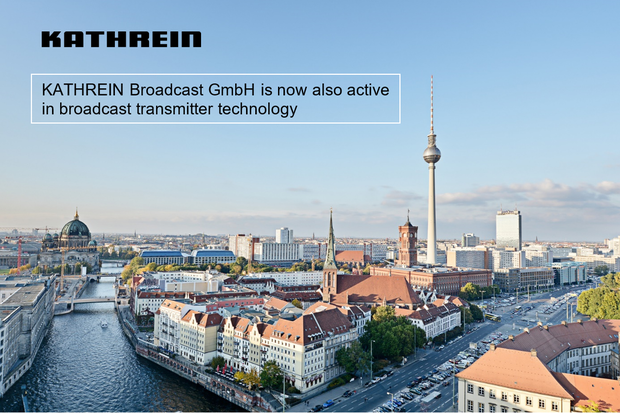 As a reliable antenna specialist, KATHREIN Broadcast has been an important partner for operators of broadcast networks in Germany and around the world for over 65 years.
Since April 2021, KATHREIN Broadcast now also has competence in broadcasting technology through the takeover of the corresponding activities of NC Plan GmbH from Berlin.
NC Plan GmbH has successfully rolled out a large number of broadcast transmission systems in the broadcasting sector in recent years and also supports network operators in the operation and maintenance of their transmission systems. In the future, NC Plan would like to concentrate again on its core business, the installation of building radio systems in the TETRA standard. "We are delighted that we have found a suitable home for our broadcasting business at KATHREIN and that the seamless service to our customers is ensured in a continued high quality", says Detlef Zernick, CEO NC Group.

"For KATHREIN Broadcast, the expansion of our offer in the broadcasting area is a useful addition. We can now cover the entire value chain in terrestrial program distribution", explains Jörg Lippert, Managing Director of KATHREIN Broadcast GmbH.

For our customers this means: advice, planning and project execution from a single source. All trades in the field of terrestrial transmitter technology such as installation and commissioning of transmitter systems, including cooling, combiners and antennas can now be taken over by KATHREIN Broadcast. KATHREIN Broadcast not only offers the technical implementation on site, but also the upgrading of the necessary infrastructure at the location. In addition, KATHREIN offers the completion of measurement tasks such as site quality tests, BGV-A3 tests and regular quality measurements.

"The customers have reacted very positively to the change, as an even better integration of the antenna and transmitter side is possible in projects", says Rainer Frank, who heads the new department at KATHREIN, happily.
About RAINER FRANK:
Rainer Frank (55) joined the team at KATHREIN Broadcast GmbH in Rohrdorf on April 1st, 2021 and is responsible for sales of services in the field of terrestrial transmitter technology.
Rainer Frank has more than 30 years of experience in the broadcasting sector and has long held various positions at one of the largest German private radio and TV network operators. Most recently, he headed the division for the installation and commissioning of radio transmitter systems at NC Plan GmbH and is considered a proven expert in the broadcasting industry.
Image Rainer Frank
Download (JPG)
Image Press Release
Download (PNG)
Press Release
Download (PDF)
Tweet